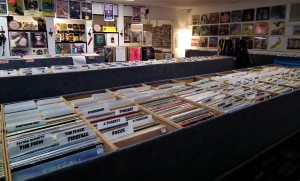 We are proud to be an independent, locally owned and operated business. As a full service record store, we offer a variety of products and services including over 20,000 vintage vinyl records and new remastered classic albums. 
In addition to vinyl records, we also carry new and vintage turntables, receivers & speakers, 45's, CD's, cassettes, record cleaning kits & supplies, posters, pins and we are an authorized dealer for the world acclaimed Ortofon phono cartridges. 
We offer gift certificates, a rewards program and a limited repair service for turntables, speakers and receivers. In addition, we can ship any of our vinyl product worldwide. 
We are open 7 days a week for your shopping and browsing convenience!
 Main Store:  217 Racetrack Road NW                                                                                            Ft. Walton Beach, FL 32547
 Satellite Location:    129 Eglin Pkwy SE                                                                                                         Ft. Walton Beach, FL 32548                                                                                     Located within the FWB Flea Market Annex
Phone number: (850) 384-6654
Main Store Hours:  M, W-Sun from 11am to 7pm. Tuesday from 11am to 4:30pm. Annex open M-Sat from 10am to 6pm and Sunday from 11am to 5pm.
Website: www.fortwaltonvintagerecords.com

Parking: If our lot is full, please park in the Circle K lot next door. A BIG thank you to the good folks at Circle K for their generosity and support!